Luncheons
Attend One Of Our Monthly 'Get To Know Us 'Luncheons
Enjoy A Wonderful Getaway From Your Busy World

Our monthly luncheons are a great opportunity to discover what makes Women's Refuge of Vero Beach a special and unique ministry. Luncheons are free of cost and are held typically on Wednesdays from 12-1:30pm. As you enjoy a delicious meal, our staff and residents share the mission of Women's Refuge, personal testimonies, our history over the last 20 years and the vision that God has given us for the future. Afterward, take a tour of our serene campus and facilities. You are welcome anytime and we encourage you to bring a friend! Reservations only please.
For more information or to make a reservation, please call the office at (772)770-4424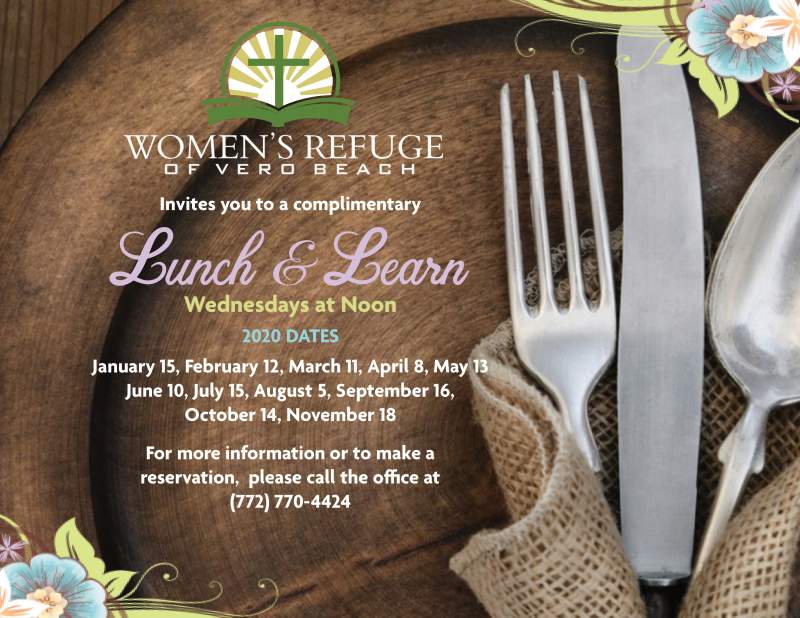 You're invited to a complementary luncheon.
Upcoming dates:
Jan 16, Feb 13, Apr 10, May 8, Jun 5, Jul 10, Aug 7, Sept 11, Oct 9, Nov 13
Noon to 1pm
RSVP @ 772-770-4424
womensrefugevb@att.net

1850 Lemon Avenue, Vero Beach, Fl. 32960
WomensRefugeVB.org
Our luncheons are sponsored by Wild Thyme Catering.
To RSVP call 772-770-4424